At Millcreek Inn, our appetizer menu for weddings is full of delicious options for your event. Categorized into three sections, land, water and vegetarian, guests can choose from a variety of options suited to their tastes.
Butler Passed Appetizers
Prices starting at $12.95 per person based on selections
Berkshire Pork Tenderloin
Picked shallots, whole grain mustard, crostini, garden herbs
Wagyu Beef Meatballs
Heirloom pepper and spices, house smoky barbecue sauce
Lollipop Lamb Tenderloin
Balsamic mushrooms, pomegranate molasses, mustard oil drizzle
Wagyu Beef Tenderloin Carpaccio
Caper aÏoli, cornichon, quail egg, multi-grain crisp, wild chive
Organic Chicken Salad
With exotic spices, saffron aÏoli, creamy leeks, phyllo tart
Duck Breast Crostini
Barbecue seasonings, Maytag blue cheese, seasonal berry jam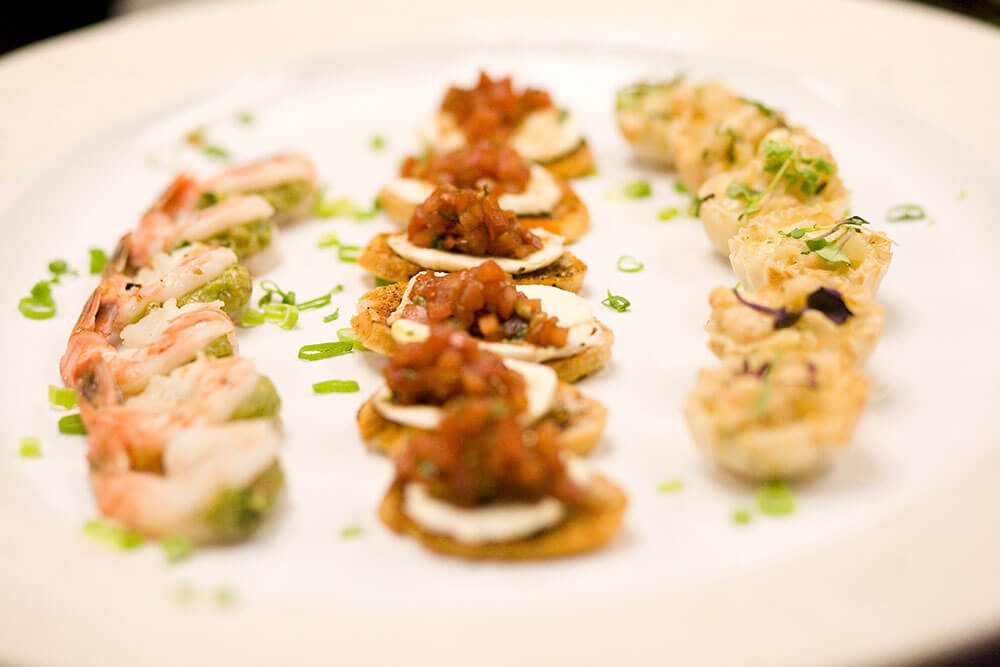 Poached Jumbo Prawns
Mexican avocado, jalapeño, cilantro, Meyer lemon vinaigrette
Yellowfin Tuna
Cucumber-seaweed salad, wasabi tobiko, wanton crisp
Sea Bass Fritters
Exotic spices, wild chive, piquillo peppers aÏoli, Italian parsley
House-Cured Organic Salmon
English cucumber, dill crème fraîche, fried caperberries, toasted baguette
Alaskan Halibut Ceviche
Calabrian chilis, house made corn chips, sea salt, harissa oil
Caprese Skewer
Mozzarella, heirloom tomatoes, basil, balsamic
Local Chèvre Cheese
Black pepper cranberry chutney, phyllo cups, micro arugula
Tropical Fruit Endive
Pickled mango, caramelized walnuts, rose water
Wedding reception appetizers are butler-passed. Our kitchen staff will hand pass trays of appetizers to your guests after the wedding ceremony. Millcreek Inn suggests butler-passed appetizers at every event. After a wedding ceremony, the bride, groom and bridal party will begin taking photos, which usually takes up to an hour. During this interim time, butler-passed appetizers are a great way to entertain your guests during photos and before the main dinner course is served.
Our appetizer menu for weddings allows you to select from many different options, while typically our couples choose up to three appetizer selections for their guests. This service is a great way for your guests to snack, mingle and enjoy the grounds at Millcreek Inn before the reception starts.
Butler-passed appetizers are a great addition to any event. Kick-off a cocktail hour after the wedding ceremony by serving butler-passed appetizers along with a wide selection of drinks available at the bar. Guests will love wandering the grounds at Millcreek Inn while tasting delicious wedding reception appetizers.

Taste the Tantalizing Tidbits
Our appetizer menu for weddings is designed to pair well with our plated ​and buffet menus. Wedding reception appetizers give your guests a small bite while saving their appetites for the delicious meal that is to come. Each appetizer choice is full of flavor and unique tastes that your guests will love. Create a well-rounded assortment of wedding reception appetizers including Lollipop Lamb Tenderloin, fresh Caprese Skewers or Snapper Ceviche.
Our appetizer menu for weddings ranges in price based on the selections you choose. Appetizers start at $9.95 per person. Each guest will be able to enjoy multiple wedding reception appetizers. Prices range due to market fluctuations.
Each appetizer is made with the freshest ingredients. Hand-made to order, your guests will be hungry for more. After our butler-passed appetizer service, we welcome the bride and groom back for their grand introduction, where we typically start our professional buffet or plated dinner service afterwards. The options are endless at Millcreek Inn.